The City Kid goes to Uganda
Author Clive Lewis visited Uganda recently. He says: "I took over 30 copies of The City Kid with me on our recent trip to Uganda, distributing them to various people with an interest in youth work. Dickens Zziwa [CEO of SU Uganda] was very pleased to receive 12 copies as well as the modest proceeds from another dozen that I 'sold' for a donation to Scripture Union Uganda."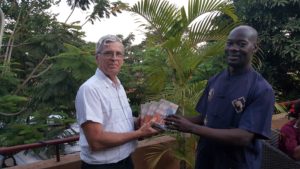 We are delighted that young people in Uganda will have access to this excellent book. Please pray for those who will read it! 🙂 The City Kid is a 'prodigal' style story about a young lad who gets involved in corruption and tries to end his own life. But he is spared, and finds Jesus. That's a very short summary! Why not buy a copy, see if it might be suitable for the young people in your life?
N.B. It's a gritty book, not for the faint-hearted. You can read the first chapter here. Click on the link, then scroll down!
Please leave your comments below - we'd love to hear from you!
comments