Should Your School Invest In Books Written From A Christian Perspective?
Novels present Christian themes in an engaging and non-threatening manner, encouraging tolerance
They help pupils reflect on how the Christian faith might work out in practice in their own lives
Making Christian books available to pupils helps church schools with their Christian distinctiveness
The books are great for "café theology" groups and book clubs
They have high moral values, and aim to be inspirational and encouraging
Dernier Publishing aim to produce excellent, relevant, fun stories to encourage and inspire.
Our stories have been chosen for their engaging characters and exciting plots as well as a relevant message woven into the story. They range from John in The City Kid who gets involved in corruption, to Frida being rescued from domestic slavery in Living in Hope, to Ben and his friends in A Pennyworth of Peppermints who uncover a spy ring (set in WW1), to Abi in Deepest Darkness beginning to find freedom from fear . . . and lots more.
Given a Christian book, readers can think issues through for themselves as well as enjoying a great story.
Read Some Reviews!
Reviews From Children:
"This is the best book I've ever read." (We've had quite a few of these!)
"It was epic . . . it helped me understand what life was like as a child in WW1. It reminded me that God is interested in helping us through tough times."
"When I read it, it makes me forget my worries and problems because I get into the book so much. Anyone would enjoy it."
"Cool, interesting, exciting; it was a great book! I liked it that the children were detectives."
"Another brilliant adventure! I really liked the new characters and stories. it taught me that when I'm feeling down, God is trying to show me how to think about him and help others, which will make me feel better again. If we stop to listen to him, he will show us the way."
"I liked this book very much. I think that that overall message from this book is that people from different countries can be friends, that we are all equal and that God does answer prayers such as those of the boy found under the tamarind tree."
Reviews From Parents And Teachers: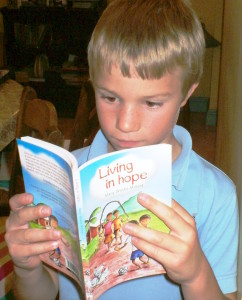 "The Treasure Hunt will be very good for our juniors to read.  It is an exciting story but also introduces the idea of modern day slavery.  The author has successfully woven the thread of prayer throughout the story, giving children a 'window' on the reality of living with the Lord day by day."
"I use the book for further discussion and learning. We have a map of the world on a wall. After each chapter we look for the country in Africa mentioned in the chapter. Then we go on the Internet and look for images and videos of other things mentioned, for example what mangroves look like, oysters, traditional dress in Gambia, village life in Uganda, crocodiles and their nests etc."
"One of my boys was very impressed with the part where the kids killed the snake. He also learned from that book that all children around the world have dreams about the future and he was touched by the hardships and challenges they face."
"Schools have to show they are promoting diversity and giving opportunities for moral and spiritual development so the books are great for both of these, especially since a large number of students no longer attend church. There is also a big emphasis on literacy, of which reading is a major part."
A Quick Bit of Information about each of our books:
The City Kid

Gritty story for teenagers. John wants to live the high life in the city, but when he gets involved in corruption and his life falls apart, he finds new life. You can read more here.
The Beech Bank Girls series
These four fun stories are written from the viewpoint of six friends who have lots of fun together, but also face all sorts of troubles and disasters! You can read more here.
Deepest Darkness
Perfect for sensitive children, those who enjoy thoughtful books and those who struggle with anxiety. Facing her fears one by one, Abi opens here life to the light and finds a freedom she never thought possible. You can read more here.
The Only Way
When a mysterious, disaffected teenager meets the beautiful and mysterious Lily, he discovers a new way to live. A brilliantly written novel with a gripping story. There are allegorical features in this novel on many levels, making it an excellent choice for a class reader. You can read more here.
I Want to Be an Airline Pilot
Perfect for children who love reading about other cultures. Through a series of adventures, Shema, an eight-year-old Rwandan goatherd from a child-led family discovers that he has a Father in heaven who cares for him. You can read more here.
Living in Hope
The thrilling sequel to I want to be an Airline Pilot. Shema and his friends still have many exciting and dangerous challenges to face. A gentle introduction to the issue of child slavery. You can read more here.
Under the Tamarind Tree
Perfect for children struggling with a change in their life, and to learn about living in a new culture from a child's perspective. The third book in the "Rwanda" series. Timo and Joshua don't want to go and live in rural Rwanda, but learn that God knows best. You can read more here.
London's Gone
London has been bombed by terrorists and three teens have to make their way to safety. Only one of them is a Christian – will it make a difference to the way he reacts to the situation? Perfect for children who enjoy a challenging read. You can read more here.

The Treasure Hunt
Great for kids who love exciting mystery stories. Four Christian friends go on a treasure hunt with the church youth club, but while looking for clues they fall into another adventure. A gentle introduction to people trafficking. You can read more here.
Mystery in the Snow
Not long after solving their first mystery (The Treasure Hunt), Debbie, Ravi, Lance and Joel find themselves with another problem; Ravi's shed has been burgled. Join the Christian friends as they find answers in unexpected places. You can read more here.
The Birthday Shoes
Emily Jane goes on a series of adventures in Africa wearing her magic shoes, making friends and some exciting discoveries about God and crocodiles along the way! You can read more here.
A Pennyworth Of Peppermints

A spy story set in WW1. Two lads find a message in a bottle; what does it mean? Exciting story with fascinating background to what life was like for children in the Great War. You can read more here.
For quantity discounts or further information, please contact us.

Accessible Reading for Children
Do you need books for pupils with sight loss?
Torch Trust* has made some of our books available in Braille, audio, large print and giant print versions for children who need extra help to enjoy stories.
The first of the Beech Bank Girls books, Deepest Darkness and A Pennyworth of Peppermints are available in large and giant print, audio and Braille format. Torch Trust can produce any of these books in large/giant Print in 17pt; 20pt; 25pt; & 30pt. (Please follow the links above for more information about each of these titles.)
We are delighted to provide the text of our books to Torch Trust free of charge. We believe children with sight loss should have the opportunity to enjoy our stories!
For further information, or if we can help you in any way, please contact us. Alternatively you can visit the Torch Trust website.
*Torch Trust is a UK charity which works to provide Christian resources and activities for blind
and partially sighted people worldwide.
Save
Save
Save
Save
Save
Save
Save
Save
Save
Save